Mrs. Jen
When we care about each other and our classroom, we share what we have, listen carefully, help each other learn work hard, and have fun together. We understand that everyone makes mistakes, that we stand up for ourselves and others, and when someone asks us to stop, we stop. This is who we are, even when no one is watching.

I expect students to work every day they are in class, complete the assignments to the best of their ability, ask questions, follow directions, and stay on task.
---
•Students are responsible for good behavior while using the computer networks, just like in the classroom or hallway
•Network storage areas may be treated like school lockers. Your files may be reviewed at any time.
Examples that may cause you to loose your internet privileges (P4620 & P4630)
Accessing or sending obscene or offensive messages/pictures
Using abusive, violent language
Harassing or insulting others
Using another student's account
Violating Copyright Laws
---
Optional Assignments 3rd - 5th grade
This winter we have had quite a few delays and cancellations, and many students have missed multiple tech classes. Here are some optional assignments that students may do to help boost their tech grade.
All assignments are due by Friday, March 8, 2019 at 3pm to Mrs. Jen.
3rd Grade- Code your 1st name and decode a secret message
4th grade- Graph paper programming
5th grade- Debugging & Binary Images
Students will be given a paper copy in class, if they need another copy, they may print one at home by clicking on the links above or they may request an additional copy from Mrs. Jen.
---
Type to Learn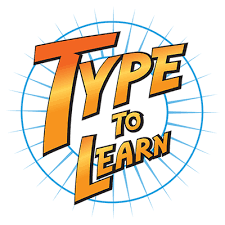 All students 2-8 have accounts in the Type to Learn program.
To login students will click the type to learn icon.
Student usernames are first letter of your first name & last name
Password is your birth month and birth date (####)
For Example: Stephanie Jen Birthday February 7
Username: Sjen
Password: 0207
Students are expected to use proper finger placement while typing and to make steady progress through the lessons. Students should be able to log in to their accounts with little assistance. Student usernames and passwords were handed out, students placed them in their planners.
Students may click on the reports tab, then select "Detailed Report" from the drop down menu and hit the yellow button to see how they are progressing through the lessons.
---
Curriculum
The Diocesean technology teachers met during the summer of 2018 and came up with a list of tasks that students should be able to complete at each grade level. This will be used to guide the student's learning.
A giant copy is posted outside the upstairs lab, and handouts were given at Open House.
Click here to view a copy online.